Dear Friends,
We have a lot of great progress at Mountain Lake to report.
Starting tomorrow, Science Saturdays will continue through October every second Saturday of the month from 2 to 3 pm.
Saturday, July 11 – Science Saturday at Mountain Lake
Saturday, July 11 is our next talk: Mussel Beach at Mountain Lake. Niveen Ismail of Stanford University will discuss how native mussels, soon to be reestablished at Mountain Lake, will help restore water quality. Her talk describes the results of her experiments at the lake and the potential these native bivalves have to remove pollutants and pathogens from the water. Click here for more information.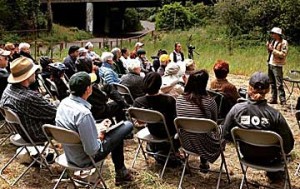 Saturday, July 18 – First Release of our Native Western Pond Turtles
We're very excited to announce the first release of Western pond turtles will be on Saturday, July 18, at 12:30 pm. Find us near the benches on the south shore.
This will be a low-key event, probably no more than 20 minutes, but come join us if you'd like to be a part of this huge moment in the life of the lake. Our partners from Sonoma State, who collected the turtle eggs and hatched them, and from the San Francisco Zoo, who have been raising these turtles for us for the last two years, are very excited to share this moment too. We're all hoping to give you a good, close look at the lake's newest residents before we row them over to their new, west shore basking grounds.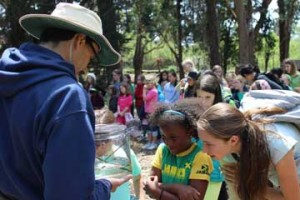 Pacific Chorus Frogs and Three-spine Stickleback Fish
Reestablishment of native Pacific chorus frogs and three-spine stickleback fish began in April. We're happy to report that in that time we've released more 600 frogs and 220 fish. We'll continue to collect and release these two species throughout the summer. After decades of absence, it's exciting to welcome these two species of animals back.
Aeration System
You may have noticed that the lake is bubbling! Last week we finished the installation of an aeration and water-mixing system. Air is being pumped through hoses to 12 locations around the lake. Before we get the lake's aquatic plant communities rebooted, the lake is still vulnerable to unhealthy algae blooms. Algae thrive in the kind of high-nutrient, stagnant, low-oxygen waters that are characteristic of disturbed lakes. This new aeration system aims to keep blooms in check by mixing and adding oxygen to the water. Limiting algae also means that the waters will be clearer, creating better conditions for reestablishing submerged aquatic plants.
For more information about the Mountain Lake Enhancement project and volunteer opportunities, please visit our website or contact the Presidio Trust at (415) 561-5331.
Thanks so much for your continued support, and hope to see you at the lake!
Content courtesy of:
Jason Lisenby
The Presidio Trust • 103 Montgomery Street, PO Box 29052 • San Francisco, CA 94129
Copyright © 2015 Presidio Trust, All rights reserved.